FIESELER Fi 103R-4 REICHENBERG
Werke No 6/2080 - BAPC91
Towards the end of 1943 consideration was given in Germany to possible use of piloted missiles for precision attacks on targets such as warships & other high profile targets like Buckingham Palace & the Houses of Parliament.
Design work was carried out by Deutsches Forschungsinstitut fur Segelfug (German Gliding Research Institute) & the modification of standard V1's for testing purposes was carried out by the aircraft manufacturer Henschel, under the code name of Reichenberg. Initial test flights were carried out at Larz where the first two aircraft crashed killing the pilots. Test flying was thereafter carried out by Hanna Reitsch & Heinz Kensche.
Two factories were set up to manufacture piloted V1's, one at Dannenberg & the other at Pulverhof both using slave labour. They produced approximately 175 piloted Fieseler Fi 103R-4's before production ceased. 70 pilots were under training when the project ceased in October 1944 owing to a shortage of fuel for training & political differences within the German High Command. The operational Fi 103R-4's were to have been operated by 5/KG200 & was to be known as the Leonidas staffel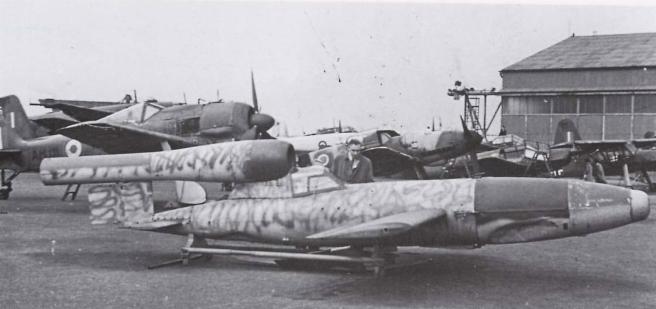 The Fi 103R-4 Reichenberg on display at Farnborough in 1945
The Fi 103R-4 was captured at the Danneburg V1 factory in the American zone & returned to the UK in 1945. It was displayed at the German Aircraft Exhibition at the Royal Aircraft Establishment at Farnborough from the 29th October to the 9th November 1945.
The Fi 103R-4 then passed through a number of army Bomb Disposal units until discovered by the museum in 1970 stored outside in a very poor condition. The bottom of the cockpit had rusted through & the back of the V1 was broken and it was due to be scrapped. It was acquired by the museum & moved to Headcorn. The museum carried out temporary repairs & did a cosmetic paint job to buy time until the funds & expertise were available to carry out a proper restoration.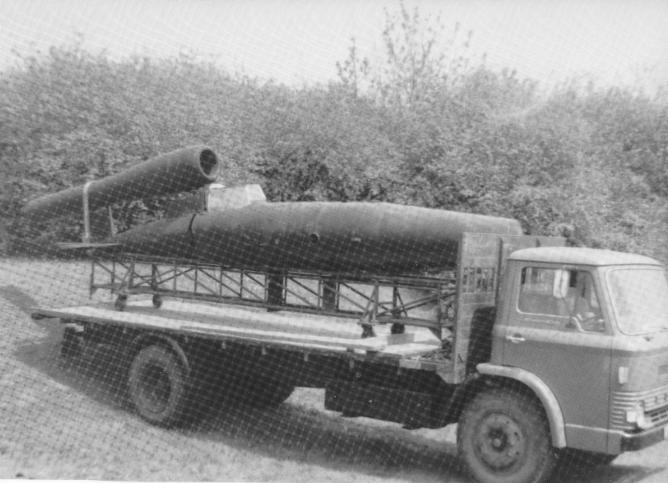 The Fi 103R-4 Reichenberg as found by the museum 1970
The Fi 103R-4 moved to Geisenhausen near Munich in November 2007, where the restoration was carried out by Axel Kuncze & his team at Auktionshaus fur historic Technik, the only restoration shop specialising in restoring the V1 and its derivatives anywhere in the world. Work carried out included replacing the nose cone as that was not the original. Some of the skinning on the rear fuselage was replaced & a new wing main spar was fitted as the one we had was of an incorrect size. The wings were recovered in the correct grade of plywood. The cockpit has been fully fitted out & all instruments, electrical fittings etc are original period pieces restored to full working order. The Fi103R-4 has been finished as it was when displayed at Farnborough in 1945.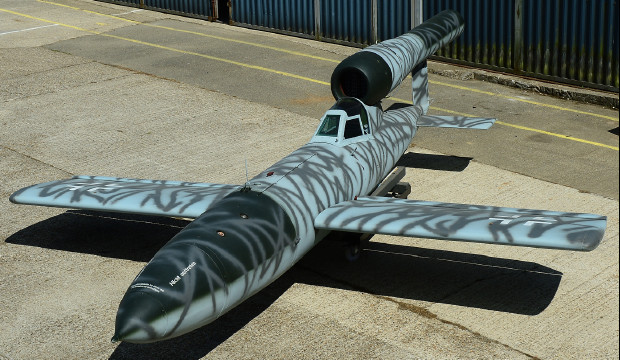 There are six surviving Fi103R-4's, the others being located at:-
Flying Heritage Museum Seattle USA
Leger en Wapen Museum Delft Netherlands
Canadian War Museum Ottawa Canada
La Coupole St Omer France
Schweizerisches Militärmuseum Full Switzerland
Individual Sponsors
Dr Peter Haydn-Smith, Guy Thomas, Chris Samson, Ann & Bob McNae,
Robin & Alan Glover, Peter Shepherd, Norman Franks,
Trevor & Caroline Matthews, Dennis & Jean Wickenden, Michael Hukins,
Ann & David Wild, Susan Harris
Corporate Sponsors
Headcorn Aerodrome, Deutsches Technikmuseum Berlin, Norfolk Line Ferries,
Thurston Helicopters, LAWM Trading Ltd, Ramada Hotels Ltd, Skybus Balloons
Luftwaffe Airfield Re-enactment Group, Collection in Memory of Andrew Cresswell